Executive Director Shares his UNLEASH Experience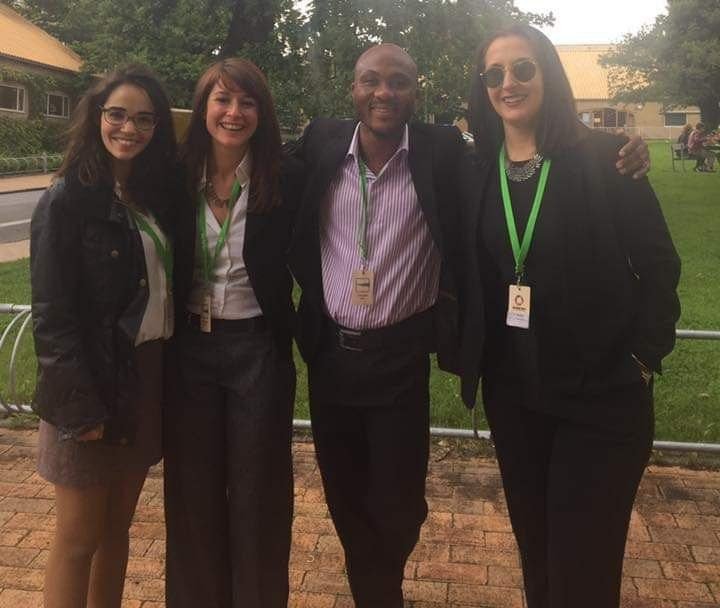 In the summer of 2017, our founder and executive director, Daniel Kwaku Ganyoame embarked on a 9-day trip to Denmark where he collaborated with global talents in the UNLEASH program.
UNLEASH is a non-profit initiative dedicated to sourcing new talent and partnering talents with innovative and global-minded individuals, companies, NGOs, government agencies, investors and foundations. They support winning ideas and bring them to life through venture funds and online hubs.
One of the 7 themes at the UNLEASH program was "Health" with 141 talents working on this area. Daniel's group's sub-theme was "Mothers and Families" with about 20 people in 5 groups.
Daniel shares his experience at the UNLEASH program where he sought to obtain funding for the Mobile 4 Life Project.
Who were the other 3 people in your team?
My team members were Caitlin Semo from the USA, Marie Margarida Cruz from Portugal and Nuria Sanchez Clemente from Spain but living in Brazil.
Can you walk us through what you did in Hillerod every day from Monday to Saturday?
After spending the first three days in Copenhagen, 1,000 people moved to 10 different Danish folk high schools which are unlike any schools you may have experienced before. Folk high schools offer non-formal adult education. You sleep, eat, study, and spend your spare time at the school. There are no academic requirements for admittance and there are no exams. You only need to be 18 years old and you can spend anywhere from two weeks up to one year there. The concept is amazing. Schools are located all over Denmark in the countryside, fully surrounded by nature. The programme is creative and includes learning in the outdoors, about nature, life in general and it usually is a life changing experience for those who wonder about their purpose and mission and the next steps in life.
We arrived in our Folk High school in Hillerod on Monday afternoon. After check in, we had a welcome party at the school called Grundtvigs Hojskole where we were introduced to the culture of the Folk High schools in Denmark with a tour of the premises.
On Tuesday, we spent the whole day touring the town of Hillerod where the Mayor and the council team with the community members hosted a community dinner. We also visited the Hillerod castle.
From Wednesday to Friday, we had some real hard work to do. We had some difficult problems to solve. We started to share our experiences and the problems we were facing in our own countries related to the delivery of healthcare service that is inclusive and accessible for everyone. Then I shared my insights regarding healthcare delivery in Ghana and its challenges. My teammates agreed to focus our problem framing on Ghana.
Did you enjoy working with your team and did your team mates come up with ideas that you never thought of?
I really enjoyed working with my teammates because of their exposure but they didn't really appreciate or have passion for the issue we were trying to solve here. All of them came from developed countries and also work in the corporate world so they didn't understand the issues facing Africans in terms of access to healthcare. They were coming up with ideas that were not practical or feasible in the context of Africa but I love them for their effort and willingness to contribute to a social cause.
Could you describe your solution, implementation plan and presentation for the Mothers and Families sub-theme?
Executive summary
550 women die every day due to complications during childbirth in Sub-Saharan Africa. In Ghana there are socio-cultural beliefs among a pregnant woman's network that healthcare facilities are unsafe and infringe on traditional values. Mind the Gap aims to change this misconception by combining maternal health care services with financial incentives to help a pregnant woman plan and prepare for her baby and provide for her growing household.
Problem
The maternal mortality rate in Ghana is 319 per 100,000 live births (over four times the recommended SDG target of 70 per 100,000). While quality maternal healthcare facilities are accessible to the vast majority of pregnant women living in semi-urban communities, 44% of women still choose to deliver at home with an unskilled birth attendant due to cultural beliefs perpetuated by members of the family and community. These beliefs wrongfully associate negative birth outcomes with the use of healthcare facilities. This may in part be due to women accessing services too late, which result in poor outcomes.
Solution
Our solution offers a financial incentive if a pregnant woman completes the mandatory four antenatal care visits and delivers the baby at the healthcare facility. This solution stimulates the woman to be empowered to engage with maternal healthcare services and offers an additional
incentive, which she can use as leverage with her wider community network. Through an agency banker based near the health facilities, the woman makes a cash deposit as savings for her unborn baby. This deposit is matched by the bank if she attends four antenatal care appointments and delivers at the healthcare facility.This model promotes footfall around the health facility and transforms the health facility into a community hub. Subsequently, by accounts of personal positive experiences, the misconceptions would be dispelled.
Where were the last 3 days of UNLEASH spent?
We spent the last 3 days in Aarhus, Europe city of culture. We were welcomed to Aarhus at Bestseller where Mr. Lars Kroijer, the founder of Allied Crowds talked about how to best secure investments for our solutions and how to pitch ideas.
Who did you present your ideas to? What feedback did you receive from your mentor?
We moved to Aarhus School of Architecture, where teams were allowed to fine-tune their prototypes, implementation plans, and pitches with feedback from mentors. We booked an appointment with our mentor, Mr. Jorge Wong-Valle who works with International Finance Corporation. He was really impressed with our solution but thought that our solution may not get shortlisted because it lacked long-term sustainability. He advised us to think through the idea again and then come up with a financial model to sustain the idea. But we didn't have enough time to think through this process.
Which ideas received awards or funding in your theme/sub-theme?
The top 12 teams within each theme were selected based on a peer selection process. The selected teams went ahead to pitch their solution to a panel of theme experts and investors. Each team had three minutes to pitch their solution, then the panel asked questions and provided feedback. After the pitches, the top 2 ideas were selected from each theme for the Dragons Den.
Could you describe the award ceremony and talk about any interesting people that you met?
The Dragons Den format is inspired by the TV show "Dragons Den" also known as 'Shark Tank' or 'Lions Den' or 'Tiger Money'. In the TV show, companies pitch their business ideas to investors who ask in-depth questions about scale, economy, vision, etc. before deciding if they
want to invest in the companies. I didn't participate in the Dragons Den because I had lost my interest in the program. The best solutions at UNLEASH didn't make it to the Dragons Den because all the investors in the program were looking for solutions that could provide them with returns on their investment. In the end, most of participants felt that the best solutions or ideas left empty handed. I met a lot of interesting talents doing amazing stuff. I am in touch with most of them and hope to collaborate with them in the near future on some exciting projects.
What did you learn from this experience that you will take home to Ghana and implement in the coming months?
I have learnt a lot from the Deloitte team about problem framing, ideation, prototyping, testing and implementing ideas and hope to use these skills to make our projects self-sustainable.
Do you have anything interesting that you would like to share about your experience at the UNLEASH program?
During the first few days we were introduced to innovators, CEOs, world-famous architects, ICT and education experts. We saw how technology and innovation can solve different problems and how, for example, new technologies are changing the face of healthcare delivery and also providing quality education to children across the world. To be able to meet people who are dreamers, optimists, who have visions of a better world and who were able to make that dream become true, was phenomenal!
During those 9 days, I was able to meet different speakers and guests such as: Crown Princess of Denmark, Prime Minister of Denmark, Achim Steiner (UNDP), Charlotte Mark (Microsoft), Salman Khan (Khan Academy), Olafur Eliasson (artist), Bjarke Ingels (architect), Ashton Kutcher (actor and investor), Trisha Shetty (SheSays), activists, influencers, innovators, entrepreneurs, investors and our amazing team of facilitators.
I learnt a lot and hope to use that knowledge to make improvements to Africa ICT Right's projects.