Trinity Presbyterian Primary School to Receive $4,000 ICT Donation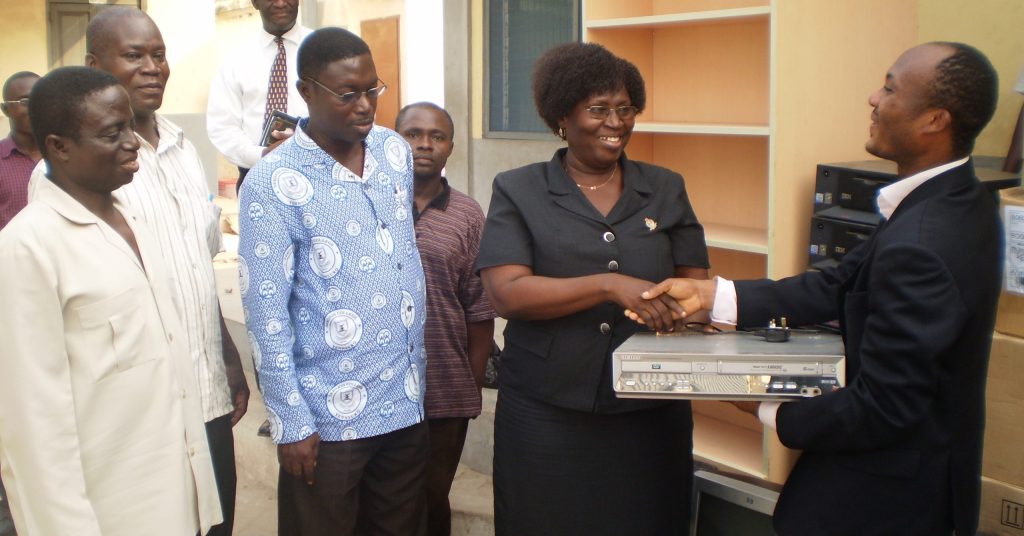 ACCRA, GHANA –Trinity Presbyterian Primary School in Takoradi will receive an information and communications technology (ICT) donation valued at $4,000 at 3 pm. on Wednesday, January 11. The donation was made possible through a collaborative effort between Africa ICT Right (AIR) and Crossroads International, Hong Kong.
Invited guests include: the school's Parent Teacher Association, Headmistress Mrs Olivia Amponsah, students, and the Metropolitan Director of Education for Sekondi-Takoradi Nana Kofi Mbeah.
Donated items include: eight computers, one overhead projector, one television set, a DVD/VHC player, one bookshelf, 10 cartons of assorted books and two boxes of computer discs and a projector screen. Presently, the school has only two computers. Presenting the items to the school, the Executive Director of AIR, Mr. Daniel Kwaku Ganyoame noted that the school had only two computers serving 613 students saying that Trinity Presby was not alone in this plight.
He said that "Africa ICT Right is driven by the belief that our country deserves the opportunity to participate as a full partner in the digital community and hope this donation will empower our students and bring us one step closer to bridging the digital divide."
The Headmistress for the school, Mrs Olivia Amponsah, described the donation as a dream come true as they had always prayed for such a gesture. She expressed the hope that, other donors would emulate AIR and help the school.
The Metropolitan Director of Education for Sekondi-Takoradi, Nana Kofi Mbeah, assured that the equipment would be put to good use to promote effective teaching and learning of ICT.
Based in Accra, AIR is an ICT oriented NGO that seeks to bridge the digital divide by empowering youth and providing computers, training, and support to underserved communities. Crossroads International is a Hong Kong-based international nonprofit that works to meet global needs.